Top of page content
The Information and Communication Technology Advisory - AssTIC is responsible for fostering, synchronizing and guiding, internally and externally, the work related to the IFSP's IT. This consultancy is responsible for: integrating the Rectory, Pro-rectories and Information Technology Coordinators of the campuses, promoting discussion forums and other forms of interaction.

IT Advisor: Eduardo Leal
A Deputy Directorate of Information Technology Support - DASI, is formed by three coordinators, each with a specific function within the wide range of services provided.
Associate Director: André Luis Vieira
Phone: (11) 3775-4556
GLPI
GLPI platform for creating a Service Desk
Manage better with Service Desk creation
GLPI is a robust tool that allows you to create complete "Service Desk", centralizing the management of incidents, requisitions, projects and assets in a single tool. The system that can serve any business areas of the company, includes a help desk system for incident and requisition management, asset, project management and an extensive range of graphical reports.
Increase your ability to resolve calls.
The GLPI software allows an effective control to open, document and conclude technical assistance or any type of request. The software has a system that makes it possible to document the lifecycle of requests and send notifications via e-mail to users and managers about the progress of the request. You will have total control of the service and communication with the customer, keeping a record of all actions performed in a single central point. GLPI helps the company to organize itself and demonstrate transparency and effectiveness to its customers / users, partners and stakeholders.
Analyze performance with GLPI reports.
What is not measured cannot be managed. GLPI provides an extensive and flexible range of reports that allow you to quickly locate calls, requests, projects and equipment that most deserve your attention and immediate intervention. You will be able to quickly check the most critical calls in just one report. With this information, you will identify areas, analysts, best and worst performing assets, enabling interventions and implementing best practices. With GLPI, you generate reports for monthly, weekly and daily periods. You will be able to analyze data by company, analyst, by hardware location, by type of ticket, by employee, by categories, by priority, by type of equipment / device, by associated contract and much more.
Create your public or private knowledge base with GLPI
Knowledge Bases are databases or knowledge accumulated on a given subject. Well employed, they improve the quality of service, helping analysts, call center attendants and other professionals who provide physical or remote support. Many managers want to have Knowledge Bases for their teams, but sometimes there is a lack of processes and tools that enable the creation of these bases. GLPI is the ideal software to set up public and private knowledge bases, enabling the management of the company's knowledge.
Monitor the exact location, contracts and equipment changes.
The GLPI electronic inventory allows you to quickly identify the location, its status, contracts and changes made to associated equipment and devices. Documents and controls factory warranties and warranty extension contracts. It allows scheduling preventive and corrective maintenance and assists in the general documentation of the asset's life.
Source: www.glpibrasil.com.br
Group creation in institutional webmail
Creation of message filter in institutional webmail
Wi-Fi is in the air!
The new Wi-Fi of the rectory is available and with it more benefits for users.
What's new?
The IFSP-Rectory wireless network has more modern antennas with its own intelligence that provide a more powerful signal for more distant workstations. This makes the network gain greater range and signal quality.
In addition, TI will facilitate access to the Wi-Fi network through a procedure that will not require opening a ticket for TI. As with the wired network, access will be through login with an institutional medical record and password.
The new Wi-Fi network of the rectory is identified as
IFSP-Rectory.
---
Visitor Registration
Visiting users, who do not have an institutional medical record and password or access to the SUAP (Academic System), can register as a visitor at
link
Visitor Registration on the login screen
login
(in:
https://login.ifsp.edu.br
) to request temporary access to the network. This request will be sent to an evaluation server appointed by the visitor. After the appraiser's authorization, the visitor will be free to access the network.
Visitor registration is available for both wired and Wi-Fi networks.

---
Registration for IFSP server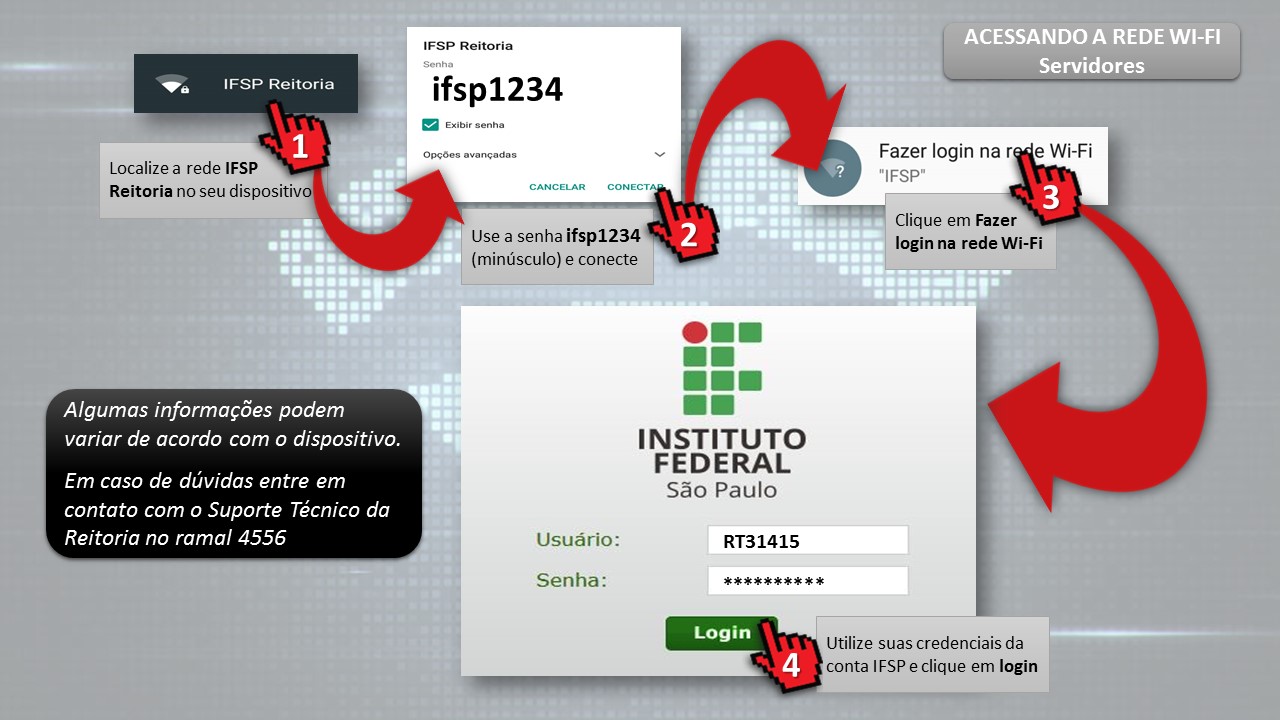 ---
End of page content